Works
Heaven's Needle: A Novel of Ithelas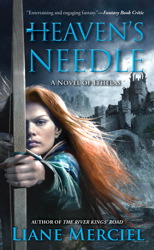 The mountain fortress of Duradh Mal was mysteriously destroyed centuries ago. And now, in its shadow, evil stirs…
Unaware of the danger, two inexperienced Illuminers set out for the village of Carden Vale, at the foot of Duradh Mal, to minister to the people. The warrior Asharre, her face scarred with runes, her heart scarred by loss, is assigned to protect the young clerics. But in Carden Vale they find unspeakable horrors — the first hint of a terrifying ghost story come true.
The Sun Knight Kelland has been set free by the woman he loves, the archer Bitharn, but at the cost of undertaking a mission only he can fulfill. Joined by a Thornlord steeped in the magic of pain, they too make their way to Duradh Mal. There lies the truth behind the rumors of the dead come back to life, flesh ripped from bones, and creatures destroying themselves in a violent frenzy. And if Kelland cannot contain the black magic that has been unleashed after six hundred years, an entire world will fall victim to a Mad God's malevolent plague…
Certainty: A Pathfinder Tale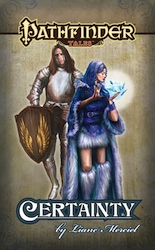 Faith is the greatest battle. To fallen paladin Ederras, right and wrong aren't as clear as they once were, and even the forces of good seem tainted by sin. Lost and broken, the formerly righteous warrior joins up with the crusaders of Mendev, the last bastion of civilization fighting desperately against the demonic tides of the Worldwound. There he plans to rediscover his faith — or die trying. Yet even on the edge of total destruction, humanity's base nature runs rampant, leading any crusader to wonder: is there anything left worth fighting for?
From rising star author Liane Merciel comes a tale of battle both physical and ideological, set in the award-winning world of the Pathfinder campaign setting.
The River Kings' Road: A Novel of Ithelas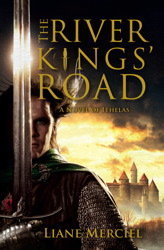 A thrilling new voice in fantasy makes an unforgettable debut with this "intriguingly twisted tale of treachery and magic" (New York Times bestselling author L. E. Modesitt, Jr.). Liane Merciel's The River Kings' Road takes us to a world of bitter enmity between kingdoms, divided loyalties between comrades, and an insidious magic that destroys everything it touches...
The wounded maidservant thrust the knotted blankets at him; instinctively, Brys stepped forward and caught the bundle before it fell. Then he glimpsed what lay inside and nearly dropped it himself. There was a baby in the blankets. A baby with a tear-swollen face red and round as a midsummer plum. A baby he knew, even without seeing the lacquered medallion tucked into the swaddling — a medallion far too heavy, on a chain far too cold for an infant who had not yet seen a year.
A fragile period of peace between the eternally warring kingdoms of Oakharn and Langmyr is shattered when a surprise massacre fueled by bloodmagic ravages the Langmyrne border village of Willowfield, killing its inhabitants — including a visiting Oakharne lord and his family — and leaving behind a scene so grisly that even the carrion eaters avoid its desecrated earth. But the dead lord's infant heir has survived the carnage — a discovery that entwines the destinies of Brys Tarnell, a mercenary who rescue the helpless and ailing babe, and who enlists a Langmyr peasant, a young mother herself, to nourish and nurture the child of her enemies as they travel a dark, perilous road...
Odosse, the peasant woman whose only weapons are wit, courage, and her fierce maternal love — and who risks everything she holds dear to protect her new charge... Sir Kelland, a divinely blessed Knight of the Sun, called upon to unmask the architects behind the slaughter and avert war between ancestral enemies... Bitharn, Kelland's companion on his journey, who conceals her lifelong love for the Knight behind her flawless archery skills — and whose feelings may ultimately be Kelland's undoing... and Leferic, an Oakharne Lord's bitter youngest son, whose dark ambitions fuel the most horrific acts of violence.
As one infant's life hangs in the balance, so too does the fate of thousands, while deep in the forest, a Maimed Witch practices an evil bloodmagic that could doom them all...